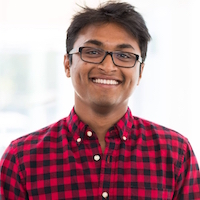 Hello! Welcome to my website! I am a graduate student at University of Rochester. I like to build robust softwares. In general I strive to better understand how human interact with computers/machines/platforms and create fun and effective systems that makes computing seamless to interact with and adds more insights to our understanding of how technology impacts our daily life.
I am advised by Professor Henry Kautz. My research interest is in the cross-section of social computing and Human Computer Interaction. Before coming to University of Rochester I worked at KAYAK, Noodle (a search engine for education based services) and Offerpop (a social media marketing platforms). I did my undergrad at Bard College, majoring in Computer Science.
I am pretty outdorsy. Love aything that involves any kind of sports. Soccer, tennis, squash, volleyball, basketball, you name it... Of course I am pretty geeky.
Summer 2016: This past summer I was at eBay working on Big Data problem for the Shopping Experience Applied Research group at eBay. In order to improve the user experience millions of Structured Search Result Pages are generated by eBay. The objective of my project was to detect such similar, duplicate and near duplicate pages; and train a machine learning model to detect pages that may look similar. This helps eBay avoid creating thin content, add value to Structured Data, etc
Below you can take a look at some selected projects of mine and I invite you to check out my GitHub if you're interested in seeing more in detail.